"Thrifting isn't just about finding clothes; it's about finding yourself within them." – Macklemore
Graz, Austria, is home to some of the best second-hand shops in the world. Graz's second-hand stores are an ideal destination for those looking for a bargain. From high-end designer labels to everyday items, Graz's thrifty shoppers can find something to fit any budget.
This article will provide an overview of Graz's best second-hand shops and discuss the benefits of shopping second-hand. We will also provide tips on how to find the best deals in each store. So, Graz is the perfect place to shop if you're a thrifty shopper looking for quality items at unbeatable prices!
"Fashion is not necessarily about labels. It's not about brands. It's about something else that comes from within you." – Ralph Lauren
Get ready for a unique adventure in Graz! We're about to reveal the 11 best second-hand shops. These are unique places where you can find cool stuff without spending much money. Let's explore Graz's fantastic thrift stores and see what treasures we can uncover!
Style on a Budget: GardeRobe's Second-Hand Treasures
GardeRobe Second-Hand Graz is where you can find fabulous clothes, shoes, and bags that won't disappoint your wallet. They have a unique collection of fancy designers that you can see on their website or store.
Choosing these cool second-hand things also helps our planet stay happy because it's like recycling fashion! You can have your unique style while being a friend of nature. So, come on in and be part of their stylish gang!
Address: Frauengasse 3 8010 Graz Austria
Phone: 0316 814312
Website: garderobe-secondhand.at
Stylish and Sustainable Fashion at Dogdays!
Discover Dogdays of Summer's fabulous fashion for ladies and gentlemen! Check out recycled silver jewellery and trendy outfits. There are tops, jackets, dresses, and more, all with a planet-friendly vibe. Explore special collections like 'You Got This' and 'Burning Planet.' When you shop, you're also helping people get jobs.
If something doesn't fit, no problem – you have 14 days to return it. And if you spend over 50 euros in Austria or 100 euros in Germany, shipping is free. Join us in being stylish and kind to the Earth with cool old clothes!
Address: Volksgartenstr. 4 – 6 8020 Graz Austria
Phone: 0670 6024352
Website: dogdaysofsummer.at
Carla & Paul: Shop, Donate, Make a Difference
Carla & Paul in Graz is a special place where you can find nice things that are not too expensive. They have clothes, books, and even toys that you can buy. The best part is that when you shop here, you're also helping people who might have difficulty finding jobs.
They have an excellent café too, where you can enjoy yummy food and drinks while helping others. Donating stuff you don't need anymore makes a big difference and is suitable for our planet. So, whether you're shopping or sipping coffee, you're making a positive impact!
Address: Grabenstrasse 39, Graz, Austria, 8010
Phone: +43 676 8801 5786
Website: https://www.caritas-steiermark.at/spenden-helfen/shops-reuse-cafes/reuse-cafes/carlapaul
Sustainable Fashion at Humana
Immerse yourself in Humana People to People, where fashion and sustainability unite. Take a closer look at their unique collection and support their eco-friendly movement by donating clothes at their branches, which can have the environmental impact of a tree's CO2 absorption in a year. Take a peek at their captivating projects, from creative costumes to vibrant summer shoots.
Take advantage of exclusive coupons and the convenience of their family card. Stay connected through their newsletter and enjoy their engaging content on TikTok and Instagram. Contact them if you have questions or wish to be part of their development cooperation efforts. Together, they're crafting a brighter future for both style and the environment!
Address: Annenstraße 7, 8020 Graz, Austria
Phone: +43 316 715715
Website: https://humana.at/
Affordable Fashion Finds at MINA Second Hand
MINA Second Hand Fashion & Mehr invites you to experience their sustainable fashion haven in Graz. Delve into a thoughtfully curated array of pre-loved fashion and more at their store. Swing by conveniently during their operating hours from Tuesday to Friday, from 10 a.m. to 12 p.m. and 2 p.m. to 6 p.m., as well as Saturdays from 2 p.m. to 6 p.m.
They have a diverse selection of pre-loved clothing items, including trendy outfits, timeless classics, and unique pieces. Explore their offerings at Keplerstraße 39, and don't hesitate to contact via email at minasecondhand@gmail.com for any inquiries. Embrace eco-conscious fashion while contributing to a greener future by supporting their collection of unique pieces.
Address: Keplerstraße 39, 8020 Graz, Austria
Phone: +43 660 6770302
Website: https://minasecondhand.com/
Antik & Retro Vintage Treasures
Explore the magic of Aida Antik & Retro Shop Graz, where old furniture and decorations bring special memories and are suitable for the Earth. They have an extensive collection, from ancient things to cool retro stuff, for people who like nice things that are also good for nature. You can find pretty carpets, exciting pictures, lovely lamps, vintage watches, and unique furniture with stories from long ago.
Aida Beckovic is the boss, making sure everything is unique and different. They are open Monday to Friday, from 9 a.m. to 6 p.m., and Saturday, from 10 a.m. to 5 p.m. Check out their Instagram and Facebook to see more fun things!
Address: Sparbersbachgasse 27, 8010 Graz, Austria
Phone: +43 650 8309902
Website: https://aida-graz.at/
Fashion Deals at BeThrifty Store
Experience the joy of thrifty fashion at BeThrifty Fashion Store! Enjoy free shipping on orders over 50€ (AT) or 65€ (DE, SI, HR). Uncover their captivating collections, including the latest Y2K-inspired fashion line and the featured BeThrifty Jewellery collection. Find a treasure trove of vintage vibes with pieces like "The Rhombus Hoops."
Please look at their blog for inspiration and share your unique style with the #bethrifty community. Don't miss out on the fantastic 35% off Summer Sale – a second chance for second-hand fashion! Whether you're shopping for women or men, BeThrifty has something for everyone. Start your fashion journey now!
Address: Reitschulgasse 7, 8010 Graz, Austria
Website: https://bethrifty.store/en
Eco-Friendly Styles with Niki. secondhand
Check out Niki. Secondhand, your go-to destination for sustainable fashion finds! Located at leonhardstraße 36 in Graz, they offer a variety of secondhand treasures that you'll adore. They're open from Tuesday to Friday, 10:00 a.m. to 6:00 p.m., and on Saturdays from 10:00 a.m. to 3:00 p.m.
Connect with them on TikTok (@nikisecondhand) for more fashion inspiration. Remember, they happily accept clothing donations as well! Explore their page to see some fantastic outfit ideas and get all your questions answered in their info/FAQ section. Join their community and contribute to a greener, stylish world!
Address: Leonhardstraße 36, 8010 Graz, Austria
Website: https://www.instagram.com/niki.secondhand/?igshid=MTI1ZDU5ODQ3Yw%3D%3D
Rediscover Vintage Charm with "Fritz am Kai"
"Old is the new new" at Fritz am Kai, where the passion for vintage pieces brings together three young women named Kathi. Dive into a world of nostalgia spanning the 50s to the 90s, where you'll find various items for your living space. Their mission? Blending the past with the present, promoting sustainability and embracing exquisite design.
Explore the ever-changing collection as new treasures are continuously unveiled on their social media platforms. Contact them via phone or email to connect, and let Fritz am Kai bring a touch of timeless elegance to your modern life.
Address: Lendkai 9, 8020 Graz, Austria
Phone: +43 664 1200947
Website: https://www.fritzamkai.com/
Vinzi Shop: Second Chances, Affordable Delights
Vinzi Shop, a heartwarming initiative by VinziWerke, invites you to experience the joy of rediscovery. This unique store welcomes everyone, offering various donated items, including clothing, shoes, children's toys, bedding, and household essentials. Every purchase contributes to supporting Vinzenzgemeinschaft Eggenberg facilities.
Step into a world where pre-loved treasures find new homes, spreading happiness twice over. While books cannot be accepted due to space limitations, the Vinzi Shop is a haven for fashion, practical items, and cherished memories. Your visit also empowers the VinziWerke mission of compassion and community care.
Address: Georgigasse 2, 8020 Graz, Austria
Phone: +43 316 585807
Website: https://www.vinzi.at/vinzishop-graz/
Eco-Friendly Kids' Fashion at PEPINO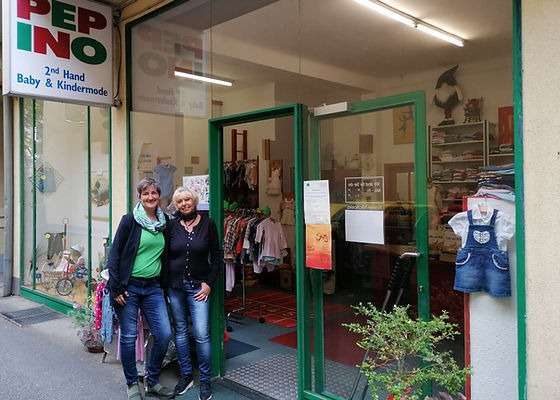 PEPINO 2nd Hand is your go-to destination for sustainable and affordable children's fashion in Graz! With a 36-year presence at Quergasse 3, 8020 Graz, they offer a range of well-maintained new second-hand clothing for babies, kids, and teenagers. Catering to various styles and age groups, their collection promotes a planet-friendly choice against fast fashion.
Join PEPINO 2nd Hand in supporting a greener future by choosing longer-lasting clothing options. Please stay connected with their updates by subscribing to the newsletter. Discover high-quality children's fashion, including options for babies, girls, and boys. Visit to explore the many choices and grab some fantastic deals.
Address: Quergasse 3, 8020 Graz, Austria
Phone: +43 316 771747
Website: https://www.pepino.store/
These shops have cool things, and when you buy, it helps nature. Remember, buying old stuff is like giving the planet a big hug. So, let's shop smart and be kind to our home!
Tips and Tricks for a Successful Thrift Shopping Experience
Discover the secrets to successful thrifting from experts and fashion enthusiasts. These insider tips will help you navigate secondhand shopping like a pro.
"Vintage clothing is not just clothing; it's a tangible piece of history, a bridge between generations, and a connection to the past." – Emily A. Squires
1. Selecting the Right Thrift Store: Where to Begin Choose well-organized shops like Savers or Goodwill. Yelp can help you find top-rated stores in your area.
2. Estate Sales: A Goldmine of Hidden Gems Explore estate sales for authentic vintage finds. Discover unique items with history and quality.
3. Say No to Fast Fashion: Embrace Quality Avoid chain store castoffs. Opt for "niche brands" and check for natural fabrics like silk and cotton.
4. Denim Delights: Discovering Vintage Jeans Explore the denim section for iconic brands like Levi's. Vintage jeans offer timeless style and durability.
5. Leather Luxuries: Sophistication on a Budget Look for high-quality leather items, but choose "full-grain" leather for the best. Remember to explore belts too.
6. Trendy Tees and Cozy Sweatshirts: Effortless Chic Explore racks of T-shirts and sweatshirts for casual style. Pay attention to tags and neck designs.
7. Smart Shopping: The 'Go-Back' Rack Shortcut Start with the 'go-back' rack near the dressing rooms. Discover items others thought were worth trying.
8. Environmental Impact: A Sustainable Shopping Choice Thrifting reduces waste and supports eco-friendly fashion. Embrace a greener lifestyle through secondhand shopping.
9. Embrace Creativity: Mix and Match for Unique Looks Experiment with different styles and create your fashion statement. Thrifting allows you to express yourself.
10. Community Support: Small Businesses and Local Shops Explore smaller thrift stores for curated selections. Support local businesses while finding hidden treasures.
11. Accessory Hunting: Complete Your Look. Make sure to look into accessories like bags, belts, and scarves. Find unique pieces to enhance your outfits.
Try out these pro tips and embark on a rewarding thrifting journey to discover one-of-a-kind treasures!
Factors to Consider When Choosing a Second-Hand Shop in Graz
Genuine Goods: Make sure the shop sells genuine items. Look for logos and labels to know if it's real.
Know the Price: Check how much it should cost. New things can cost more. Find out how old it is and what others pay.
Quality Check: Look at the stuff. Make sure it's excellent and intact. Ask if it's OK. If it's not, you can give it back.
Compare and Save: Think about the money. Second-hand things can be cheaper. Compare prices with new things. Get good stuff for less money.
Conclusion
To wrap it up, Graz's excellent second-hand shops aren't just about getting great deals but also a way to help the planet. 
Remember what Macklemore said: 'Thrifting isn't just about finding clothes; it's about finding yourself within them.'
So, by picking cool second-hand stuff and supporting these shops, we're doing something good for our style and the Earth. Let's shop smart, enjoy the treasures of the past, and make a better future for all of us.
FAQs
What is second-hand shopping called?
Second-hand shopping is also called consignment shopping, where you can find pre-owned items at consignment shops or explore flea markets, giveaway shops, and junk shops for various old goods and unique treasures.
Should I wash thrifted clothes?
Yes, it's a good idea to wash thrifted clothes after purchase. While donations are usually cleaned before being donated, giving them a thorough cleaning at home is recommended due to potential handling.
Is it OK to wear clothes from thrift stores?
You can wear clothes from thrift stores, but clean them first. Sanitizing second-hand items reduces the risk of bacteria, fungi, and insects that might be present.
Why do old clothes smell?
Old clothes can smell because they absorb scents from things like car exhaust, gasoline, and perfumes they were around. These scents get trapped in the fabric over time.
How do you get rid of the thrift store smell?
To remove the thrift store smell, air the item outdoors or in a well-ventilated area for a few hours. Sunlight helps eliminate musty odours, so try this on a sunny day for the best results.